Isle of Palms, SC Fishing Spots
The waters near Charleston and Isle of Palms, SC are a favorite destination for saltwater sport anglers everywhere. The Carolina coast offers great fishing weather year-round and an incredible variety of saltwater fish species both inshore, nearshore, and deep sea.
Captain Legare Leland has fished these waters his whole life. For over a decade, he has helmed Headshaker Charters to offer light tackle and fly fishing charters throughout the area. Explore our top Isle of Palms, SC fishing spots, and book your charter with us today!
Bull's Bay
If you enjoy fly fishing, Bull's Bay is the place to go. Sight fishing is a good tactic in this body of water, especially in the winter when the water turns almost completely clear. You can also see redfish tailing along the flood tides in the summer and fall.
Tarpon is another popular game species that like to gather here from May to October. If you're looking to catch something more than redfish and trout, Bull's Bay is ideal.
Gray Bay
Gray Bay is a large, shallow, open-water flat located just two miles outside of Isle of Palms. It is filled with oyster beds, which is often where redfish and trout can often be found. You can access this top fishing destination through Hamlin Creek.
Hamlin Sound
The backwaters of Hamlin Sound are another great fishing location. The sound extends from Gray Bay to Copahee Sound, and its shallow waters are also filled with oyster beds that make it ideal for flats fishing for redfish.
Copahee Sound
Located 5.8 miles from Isle of Palms, Copahee Sound provides the opportunity to catch a variety of different local fish species. While this is a prime place to find overwintering redfish, Copahee Sound is also full of trout, flounder, and reds.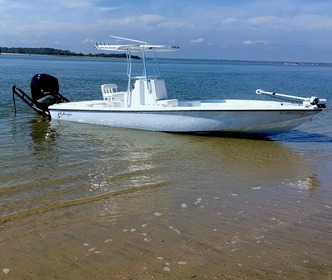 Bullyard Sound
Bullyard Sound is a flatwater bay located between Copahee Sound and Dewee's Island. The waters are not as shallow as Copahee Sound, and this destination has fewer oyster beds. However, it's still a fantastic fishing spot that's only 5.7 miles away from Isle of Palms!
Boneyard Beach
Boneyard Beach is located on Bull's Island, just northeast of Isle of Palms. This shoreline is only accessible by boat, but it is a favorite spot for locals and tourists alike. Not only does it offer amazing fishing, but it provides a fantastic view as well. Hundreds of trees have fallen on this beach and have been bleached by the sun, making the shoreline resemble a boneyard. This is perhaps the most scenic destination for casting your line!
Book Your Charter
We still have a few secret fishing spots that you experience only see when you book a charter with us! If you're fishing for red drum, speckled trout, flounder, shark, or all of the above, Captain Leland knows all of the hotspots. Schedule your exciting charter with Headshaker Charters!