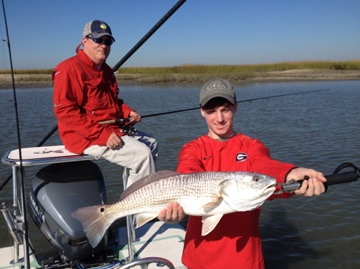 Fly Fishing Guide Isle of Palms, SC
As a lifelong native, Captain Legare Leland has thousands of hours experience fishing the waters surrounding Isle of Palms and Charleston, SC. Add that to over 20 years of chartering experience, and you can rest assured that you'll in good hands on the water. Contact us today to book a charter with a knowledgeable fly fishing guide in Isle of Palms, SC!
What Is Fly Fishing?
Fly fishing is a light-tackle angling method that requires a unique casting technique with an artificial lure (aka "fly"), fly rod, reel, and weighted line. Unlike traditional fishing methods, which rely on the weight of the lure or bait at the end of the line to cast, fly fishing requires specialized equipment to enable the angler to cast the light weight fly. This is an active fishing method that is tons of fun and very rewarding. Using this method, you can often target species on sight, creating an exciting experience like no other!
Where Will We Go?
You may be surprised to learn that fly fishing is a year-round sport in the Charleston area. With vast sections of marsh, creeks, rivers, and beaches, Charleston and Isle of Palms has miles of flats and shallows that are perfect for fly fishing. Captain Leland knows the area well and will take you to where the fish are biting. Some popular fishing spots include:
Gray Bay
Hamlin Sound
Copahee Sound
Bullyard Sound
Bull's Bay
Boneyard Beach
What Can We Catch?
Redfish, also known as red drum, is the leading fly fishing game species in the area. These fish feature a distinctive red back and white belly, with dark spots on their tail. They can range anywhere from 6 to 55+ lbs, and they put up a good fight!
Depending on the season, other popular fly species in the area include seatrout, mackerel, flounder, cobia, amberjack, and even tarpon on occasion. Just let us know what you're after, and we'll work to get you in the right spot.
I've Never Been Fly Fishing Before…
Don't sweat it. We are a family friendly charter business, and all skill levels are more than welcome. Captain Leland will be happy to walk you through the basics of casting, and all equipment will also be provided for you. We'll do everything we can to help you get the most enjoyment from your day out on the water.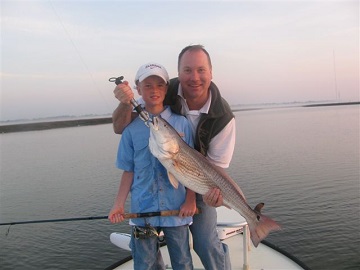 Book Today
Ready for an exciting adventure in Isle of Palms, SC? Book a fly fishing guide with Headshaker Charters today!