In the Press: Capt. Legare Leland Inshore Charter Fishing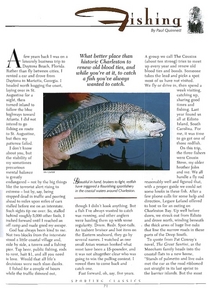 Fishing, by Paul Quinnett, from Sporting Classics (221.49 kB pdf download)
Fishing
By Paul Quinnett
Excerpt from Sporting Classics
A few years back I was on a leisurely business trip to Daytona Beach, Florida. Rather than fly between cities, I rented a car and drove from Daytona to Marietta, Georgia. I headed north hugging the coast, laying over in St. Augustine for a night, then turned inland to follow the blue highways toward Atlanta. I did not intend to go fishing en route to St. Augustine, but then my patience failed.
I don't know about you, but the stability of my sometimes precarious mental balance is greatly endangered — not by the big things like the terrorist alert rising to extreme — but by, say, being stopped dead in traffic and peering ahead to miles upon miles of cars stalled before me on an interstate. Such sights tip me over. So, stalled behind roughly 5,000 other fools, I inched forward until I reached an off ramp and made good my escape.
God has always been kind to me. Not two blocks from the interstate stood a little coastal village and, side by side, a tavern and a fishing pier. Tap beer, public fishing, rods to rent, bait $1, and all you need is love. would that all life's decisions were such slam dunks.
I fished for a couple of hours while the traffic thinned out, though I didn't hook anything. But a fish I've always wanted to catch was running, and other anglers were hauling them up with some regularity. Drum. Reds. Spot-tails. An inshore bruiser and hot item on the Eastern seaboard, they go by several names. I watched as one small Asian woman hooked what must have been a 15-pounder, and it was not altogether clear who was going to win the pulling contest. I vowed then to come back and catch one.
Fast forward, oh, say, five years. A group we call The Cousins (about ten strong) tries to meet up every year and renew old blood ties and bonds. Someone takes the lead and picks a spot most of us have not visited. We fly or dive in, then spend a week visiting, catching up, sharing good times and fishing. Last year found us all at Edisto Island, South Carolina. For me, it was a time to go get one of those redfish.
On this trip, the three fishers were Cousin Steve, my older brother John and me. We all handle a fly rod reasonably well and figured that, with a proper guide we could set some hooks in these fish. After a few phone calls for some help and direction, Legare Leland offered to host us for an outing on Charleston Bay. Up well before dawn, we struck out from Edisto and drove north, winding beneath the thick arms of huge live oaks that line the narrow roads in these parts of the Deep South.
...
The redfish were all around us. Feeding. The guide's job is to put you on fish, not catch them for you.
I've always held that Steve has some rare neurological disorder that severely slows his striking reflexes. For Steve, in the time between hit and hook-set, a person with only one hand could knit a sweater. My diagnosis is too many Martinis. His brain seems fine, but his reaction time is a bit tragic. After about the fourth missed strike, I inquired if he would like instruction.
"Nope, I'll figure these guys out in a minute."
"I'm over 60 and minutes count, pal," I said.
John observed, "When they pull, try pulling back... this week."
But Steve didn't, and another red dropped the fly and scooted away. Finally, I said, "Time!" — or something so I could show him how it was done.
I made a few fair casts, but was foiled on every attempt. I never felt a hit, but may have had one. I did manage, however, to spook several pods and singles until, looking up and down the green swath of sawgrass, it was clear I had routed all the fish in that section of Charleston Bay to parts above the Mason-Dixon line.
I tried to study Legare's eyes through his wap-around sunglasses.
Nothing. He looked fine and brave and strong and confident, but I guessed he was thinking, "Who are these old fats, anyway?"
As the tide dropped, Legare suggested we move to the passes where the fish would be back-peddling toward deeper water while trying to ambush smaller fish. We wound through streams and channels and set up on likely spots, and gave t what we had, but for the fly and rod, hope died.
"I never stand on pride or tradition when fish can be caught," said John. "Pass me one of those spinning rods." If there was a fly fishing purist in the boat, it was hard to find him, and in five minutes we were all spin-casting. In five more minutes we'd landed the first red. Fishing picked up, the morning wound down, and we ended with lunch and a lovely boat ride back to the dock.
As I recall with perfect clarity and because I would never dream to lie about such things, and because I have out-fished John and Steve on just about every occasion over the past fifty years, I herby reaffirm in print, as I declared then, that I did, in fact, catch the biggest red of the day. This memory is punctuated and made all the more poignant by my recall of a sharp pain in my lower back as some old fool poked me with a push pole.
If You Want To Go
To book an in-shore fishing trip in the Charleston area, contact Legare Leland at Head Shaker Charters, 843-810-0495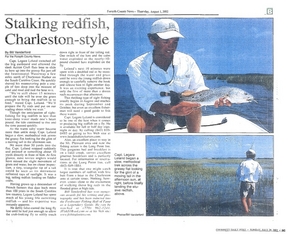 Stalking Redfish, Charleston Style, by Bill Vanderford, from Forsyth County News (166.54 kB pdf download)
Stalking Redfish, Charleston Style
by Bill Vanderford
For the Forsyth County News
Capt. Legare Leland switched off the big outboard and allowed the sleek Action Craft flats boat to slide its bow up into the grassy flat just off the Intercoastal Waterway a few miles north of Charleston Harbor on the South Carolina Coast. He quickly shoved his maneuvering pole a couple of feet deep into the mixture of sand and mud and tied the boat to it.
"We're still about 15 minutes until the tide will be over the grass enough to bring the redfish in to feed," stated Capt. Leland. "We'll prepare the fly rods and put on our wading shoes while we wait."
Though the anticipation of sight-fishing for big redfish in less than knee-deep water made one's heart pound, the tide continued to rise and the time passed quickly.
As the warm salty water became more than ankle deep, Capt. Leland began a slow, methodical trek across the grassy flat looking for the glint of a moving tail in the afternoon sun.
No more than 50 yards into the flat, Capt. Leland stopped suddenly and pointed at something about 10 yards directly in front of him. At first glance, most novice anglers would have missed the slight movement of grass and water, but on close inspection, a tiny, triangular tip of a tail could be seen as its movement reflected rays of sunlight. It was a big, tailing redfish feeding on fiddler crabs.
Having grown up a descendant of French farmers that date back more than 100 years in the South Carolina low country, Legare Leland has spent much of his young life outwearing redfish — and his expertise was instantly apparent.
He deftly false-cased the long fly line until he had just enough to allow the crab-looking fly to softly touch down right in front of the tailing red. One twitch of the lure and the calm water exploded as the nearly 10-pound channel bass exploded on the fly.
Leland's next 10 minutes were spent with a doubled rod as he stumbled through the water and grass until he wore the young redfish down enough to carefully remove the hook and release him to fight another day. It was an exciting experience, but only the first of more than a dozen such occurrences that afternoon.
This thrilling type of sigh fishing usually begins in August and reached its peak during September and October, but even an excellent fisherman will need a good guide to fish these waters.
Capt. Legare Leland is considered to be one of the best when it comes to producing big redfish on a fly. He is available for full or half day trips, night or day, by calling (843)810-0495 or going to his Web site at www.headshakercharters.com.
Also, an excellent place to stay in the Mt. Pleasant area and near the fishing action is the Long Point Inn. This gorgeous bed and breakfast is on a tidal creek, serves excellent gourmet breakfasts and is perfectly located. For information or reservations at the Long Point Inn, call (843)849-1884.
It is true that one might catch larger numbers of redfish with live bait from a boat in the Charleston area at certain times. Nothing, however, comes close to the excitement of stalking these big reds in the flooded grass at high tide.
Bill Vanderford has won numerous awards for his writing and photography and has been inducted into the Freshwater Fishing Hall of Fame as a Legendary Guide. He can be reached at (770)962-1214, JFish51@aol.com or at his Web site: www.fishinglanier.com.