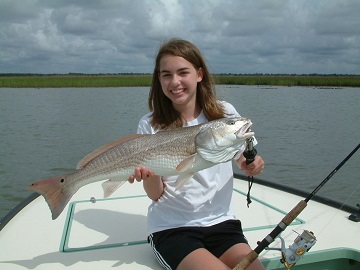 Redfish Guide Isle of Palms, SC
If your goal is to catch redfish in Isle of Palms, SC, your best chances will be with a professional redfish guide. Join Captain Legare Leland for your next fishing adventure! With over 20 years of chartering experience, thousands of hours on the water, and the skill to catch some of the best local fish in Charleston, you're sure to leave with a great catch. Contact us today to book your charter with one of the best fishing guides in Charleston!
How to Catch Redfish
Expert redfish anglers know the right conditions for attracting this particular species. Here's everything that Captain Leland considers when fishing for redfish:
Environment & Seasons
Redfish are shallow-water fish, so it's best to look for them in creeks and flats—which Charleston has plenty of. They are here year-round, and it can be even better to fish for them when the water cools down, since younger redfish (1-17 lbs) school up for the winter months. However, if you're hoping to catch big bull reds, they begin to show up in the spring. Their numbers grow in the fall as they are getting ready to spawn, but they then return back to the ocean for the winter months.
Bait & Techniques
Redfish respond best to live bait. It's common to attract them with shrimp or small baitfish. However, artificial bait can also be an effective method for catching redfish when used in the right season. Captain Leland uses artificial lures in the fall, flies on the flood tides and sight fishing in winter.
It's best to fish for reds on an outgoing tide. On your tour with us, we'll take you to the best fishing spots in the area and offer pointers on the proper techniques to give you the greatest chance to catch the species you're after.
Never Been Fishing?
If you've never fished for redfish or never fished at all, don't worry! Either way, that's no problem for Headshaker Charters. In fact, we look forward to showing you the ropes so that you can come to love fishing as much as we do! Captain Legare Leland will walk you through every step of the process as well as provide all of the equipment you need for a great day on the water!
Book Today
If you're searching for an expert redfish guide in Isle of Palms, SC, look no further. Join Captain Leland on a private charter for a truly fantastic fishing experience. We look forward to helping you catch some of the best local fish in Charleston!